Wednesday 18 May, 10 – 4pm
Ever wondered how to draw trees? Trees lead our eyes upwards. They also frame a garden or a landscape.
Come and join Carole Bury for a full day working outdoors gaining experience in drawing trees within the structure of Painswick Rococo Garden.
During the day you will bring trees to life on your page, working in graphite pencil, exploring marks, revealing shapes and areas which help with composition. You will look at a selection of great masters and learn techniques from your drawings and leave with inspiration, confidence and a visual vocabulary greatly increased.
This workshop is suitable for beginners and students wishing to increase their knowledge. You will work outdoors in locations across the Garden.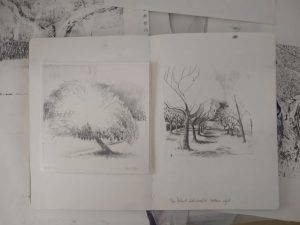 The price is £55 per person and this includes the provision of a basic drawing kit, refreshment on arrival and free entry to the Garden. Please bring a packed lunch to eat in the Orangery, or you're welcome to buy lunch in the Cafe.
Other tools and materials:
Please bring any favourite pencils and an A4 or A3 sketch book of cartridge paper. Come in appropriate clothing and sturdy footwear. There are plenty of benches and seats around the Garden, but please bring a small folding stool if you prefer.
To book, please click here.