It turns out that our suspicions were correct, and last month was in fact officially the sunniest April on record.  It has again been optimum gardening weather (and garden-visiting weather – but let's not go there #stayhome #staysafe) with a little bit of much-needed steady rain and a drop in temperatures just recently to give everything a break.
Our trustee Marion Mako has recently recorded two short pieces about the Garden – this first one features some of the gorgeous colour of a few weeks back, including some of our beautiful bluebells.  Did you know that over half of the world's bluebells are found in the UK?   In this second one, Marion focuses in on our vineyard and wild garlic.
Down in the Kitchen Garden, Roger has been busy recently planting out the hardier healthy-looking specimens in the polytunnel and greenhouses. Peas, beans, courgettes… all looking good. In the Exedra Garden, we now have some rather lovely home-made supports. And if you follow us on Instagram (click here to visit) you will have seen tomato plants being potted on this week, as well as these rather lovely and special "UCare" tulips, which are blooming happily in pots just outside the Bothy.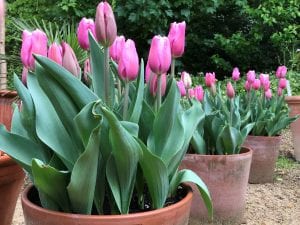 We might not be open… but we had rather a nice write-up here on the Heritage Open Days site as one of their selection of glorious gardens.  We find ourselves in illustrious company!
Gideon (our ride-on mower) is yet again giving Roger grief. If you've been following the saga via our previous blogs… it's the same band as before. He's ordered two replacements this time so hopefully he'll be up to mowing again this week.
Our volunteers continue to keep us going, helping out behind the scenes.  Last week, one of our lovely team who volunteers at Stroud Food Bank came in to have a look through our Shop and Café stock, and took away all of the non-perishables with short "best before" dates to Stroud Food Bank so that none of it goes to waste.
If you missed our last update, then do click here to see Roger's mid-April guided tour and to find out more about how we put some of our tulips to good use.
We continue to regularly review the position with regard to opening as the situation progresses. Please check back here for updates or follow us on social media (links via the bottom of our home page). Rest assured that throughout the closure, our priority will be to look after the Garden for the future. To donate to support our charity, click here.