23 – 30 July 2021, 8pm
UPDATE Saturday 31 July – Midsummer Lights is now finished for this year.  Thank you so much for all the lovely feedback – we have loved hearing from you.  If you don't already, do follow us on social media for all the latest news as to what we're up to.

Had you visited our Garden back in the 1700s, you may well have come with friends and been surprised and delighted by an evening's partying in this carefully-designed landscape with its array of quirky follies and stunning vistas.  Midsummer Lights is a contemporary take on this "fete champetre" and is a brand new, custom-designed addition to our programme of events in 2021.  The event has been created in association with Spectacle of Light, a company known for its imaginative and thoughtful light installations across the country.
Imagine, as evening turns into night, the Garden and woodland transform into a mystical dreamlike world where playful characters pop out and entertain you as you promenade in this enchanted setting.  From treetop aerialists and fire dancers, to roaming actors, we have everything in place to give you a truly unforgettable evening.
The experience begins on the Bowling Green and orchards, in the heart of the Garden, enjoying a laidback picnic with family and friends, * and perhaps a glass of fizz from the champagne bar…as the light fades…the magic begins…
Arrive between 8.00 and 8.30pm and bring your own picnic and something to sit on. From 9.30pm onwards as daylight fades, start to explore and discover all these magical scenes. There will be a fizz bar as well as delicious ice-cream on sale. The Garden closes at 11.00pm.
Tickets to this unique event are £30.00 per person and can be booked by clicking here. 
Note: Midsummer Lights is a late-evening event and as such not really designed for young children. Whilst everyone is welcome, it is more suitable for older children. We're very sorry but It is not an event suitable to bring dogs. The Garden is set in a valley and paths are both steep and uneven, this event may not be suitable for those with mobility difficulties – please email us if you have any concerns before booking.

*Any Covid restrictions in place at the time will need to be adhered to.
Video: Cotswold TV Photos: Steve Green
More details about the event are below…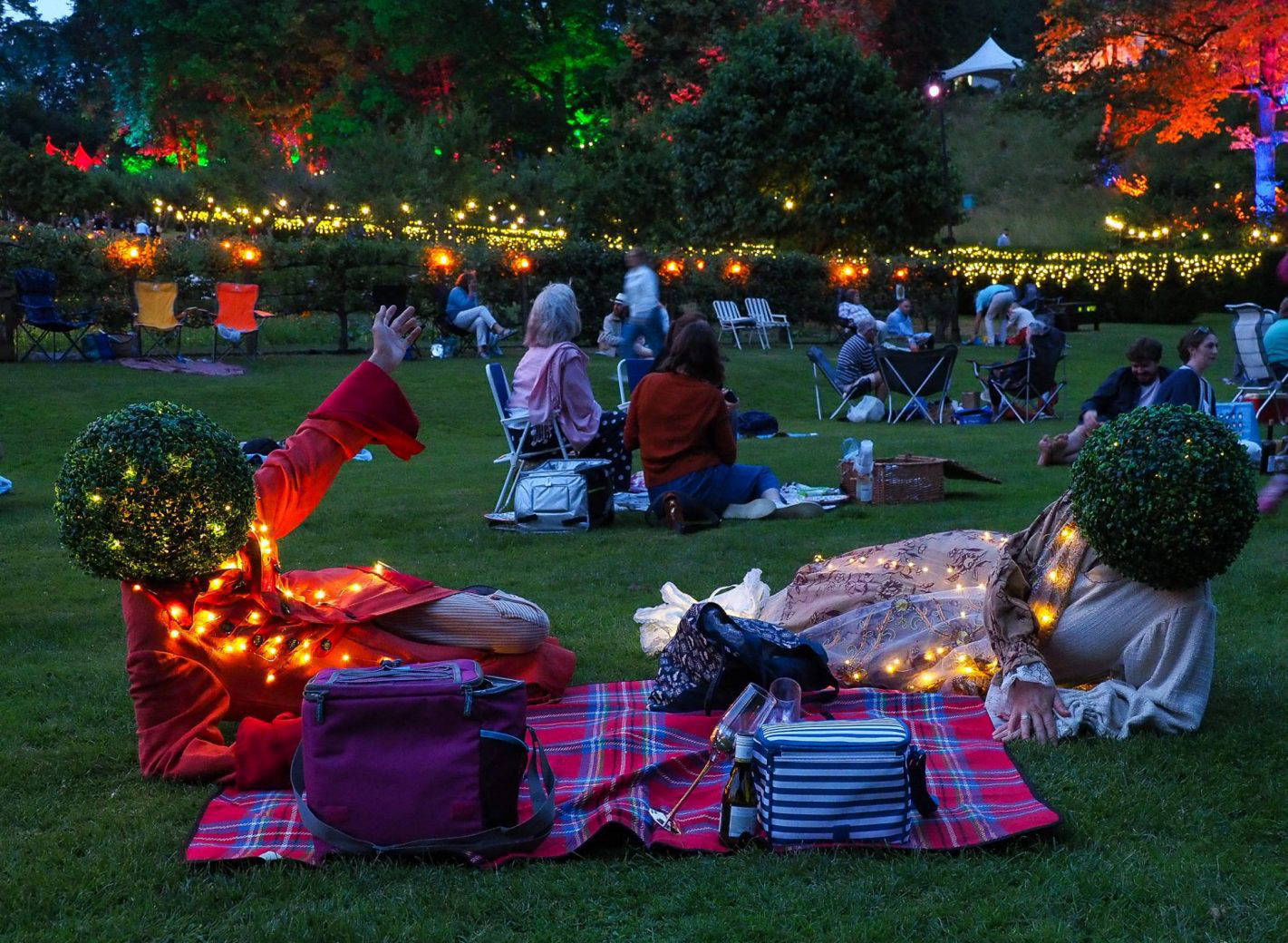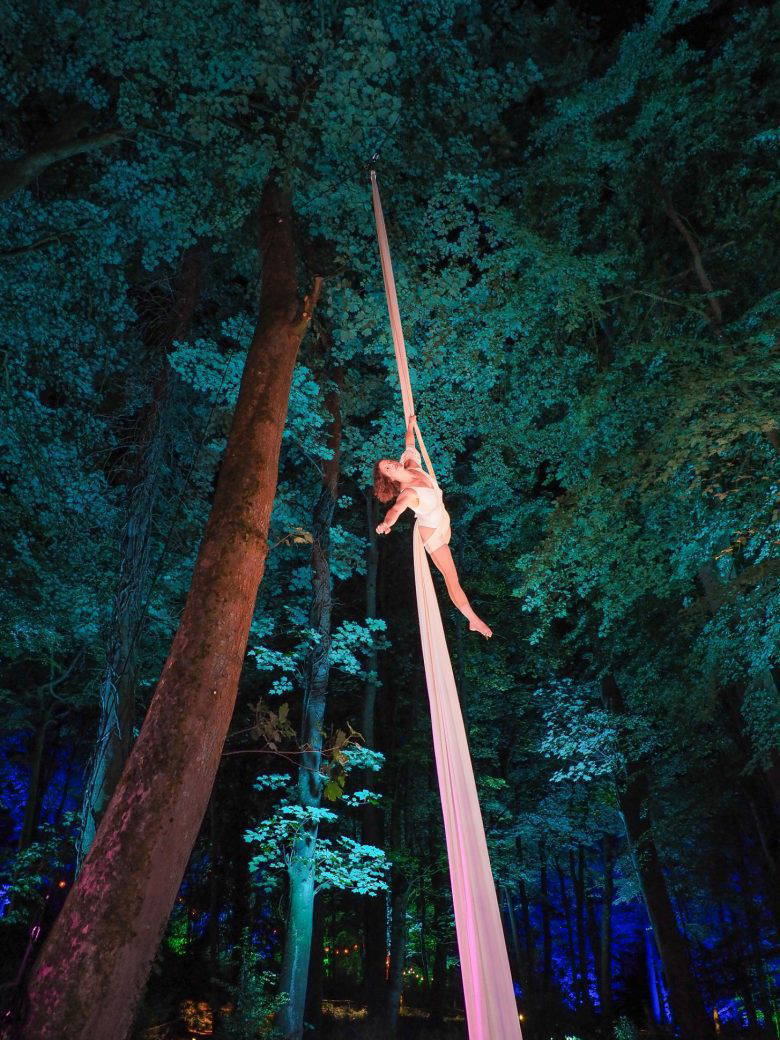 Here's all you need to know about the event.
Entree – you can arrive any time after 8.00pm. The lighting and performers will begin when it starts to get dark around 9.30pm. There is free parking on site.
Pack a delicious picnic and something to sit on – blanket or chairs are fine, there is a bit of a walk to the picnic area so you might prefer to pack light. Picnic spots will be allocated on arrival.
No stilettos – from the car park onwards, you'll be on rustic terrain so please wear suitable shoes. The lighting and performers will be enjoyed whilst promenading around the Garden and the woodland – it is not a sit-down show.
Fizz bar – you're welcome to include your favourite tipple in your picnic (don't forget glasses if you need them) and there will be a fizz bar on site. Ice creams will also be on sale. PLEASE BRING CASH.
Alfresco dress code – this is an outdoor event so please come dressed appropriately.  If heavy rain is forecast and the event is cancelled, you'll be contacted by the Everyman on the morning of the event to be offered an alternative evening. Please also check our website for updates.
Covid – please do not attend this event if you have any Covid symptoms, have tested positive or have been requested to self-isolate. In the event of any of these, please get in touch with the Everyman Theatre box office on 01242 572573.  Although restrictions have been lifted, our approach will still be cautious and we ask you to be mindful of others.
 Dogs – Sadly only assistance dogs are welcome.
If you have any ticket enquiries, please contact the Everyman Theatre box office 01242 572573, for other enquiries please contact Rococo Garden – email:  or call 01452 813204.