We're gearing up to one of our busiest and most beautiful times of the year when over five million snowdrops carpet the Garden this spring.  No one knows how they got here, but their number and natural beauty makes them one of Gloucestershire's must-see events.  We can't predict the exact timing of when they'll be in full bloom as Mother N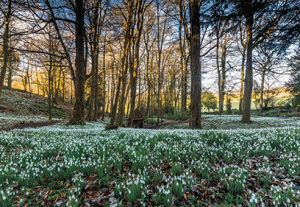 ature holds all the cards, but it is usually towards the end of January and throughout February. There are 15 varieties in total here in the Garden, with the most famous being Galanthus "Atkinsii", a particularly tall and handsome snowdrop.  This was discovered here in the 1800s by James Atkins, who lived in an estate cottage here. The main collection of snowdrops is in the Snowdrop Grove, with more modern varieties above the maze. 
For 'blooming updates' keep checking our website or follow us on Facebook, Twitter or Instagram.
13/01/2020 Snowdrop Watch update: we have a peppering of snowdrops. Full bloom expected towards the end of January.