If you visit us over the coming weeks and months, you will notice a new temporary arrival in a corner of our car park.  We are delighted to be hosting local sculptor Natasha Houseago who will be working on carving some of the ash which has succumbed to die back in the Garden, to give it a brand new life in art form. 
 "Chalara" ash die back is a sad yet now-familiar problem affecting the British countryside, and the Rococo Garden has not escaped its impact.  The team have already had to remove a considerable number of diseased trees for safety reasons, with more due to be taken down over the coming years.  Thankfully none of the historic trees has yet been affected but the Garden team undertake regular inspections to monitor the impact of the fungus.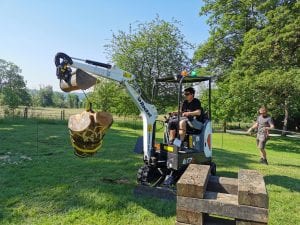 Working from her much-admired vintage Land Rover, Natasha will be onsite two days a week for up to a year, creating site-specific carvings inspired directly by the Garden.  She has secured funding from Arts Council England to develop her practice and chose the Rococo Garden as her base for its outstanding natural beauty and because of the impact of ash dieback, particularly on its younger trees.  As part of the project, a collaboration is planned with the Future Trees Project which is working on developing disease-resistant ash through selective breeding. 
 Natasha and the Rococo Garden team are planning a number of exciting creations which are currently at the very early stages of design.  Natasha is planning to create textural sculpture that people can touch and to experiment with new techniques of scorching, patterning, stencilling and tattooing.  She is also planning a series of workshops as part of this autumn's Cheltenham Open Studios event. 
 Garden Director Dominic Hamilton says: "Chalara is a natural disaster for our native ash trees and has already had a significant impact on our Garden.  I am delighted to we have been able to turn this around and create something positive by reusing the timber we have had to fell to create handcrafted pieces of sustainable beauty."