In a super-organised attempt to get everything in place before a spot of annual leave, I'm getting the blog written, and it hasn't been 9 months since the last one!  A round of applause is in order, I think!
Since my last blog, written in June, we have started to harvest a variety of delicious soft fruits from the Kitchen Garden.  This really is the best a garden can offer, with punnets of black, white and red currants, as well as gooseberries and raspberries.  The shop is now filled with delicious preserves including a whitecurrant jam and redcurrant jelly.  It's such a great feeling to know that nothing is going to waste.
Now that the soft fruit season is over, we've moved onto the incredibly exciting mulberries.  I don't remember them ever being harvested before, at least not in the 6 years I've worked here, so these really are trailblazing times!!  We're one week and two tubs worth into this year's harvest, and those first two tubs have already been sent onto Maryanne to make into a delicious mulberry jam.  I am very excited about this.  Mulberries are a new fruit to me, and harvesting was certainly an experience.  Here's a quick snap of our Wednesday Volunteers with their spoils and their fruity, juicy fingers!!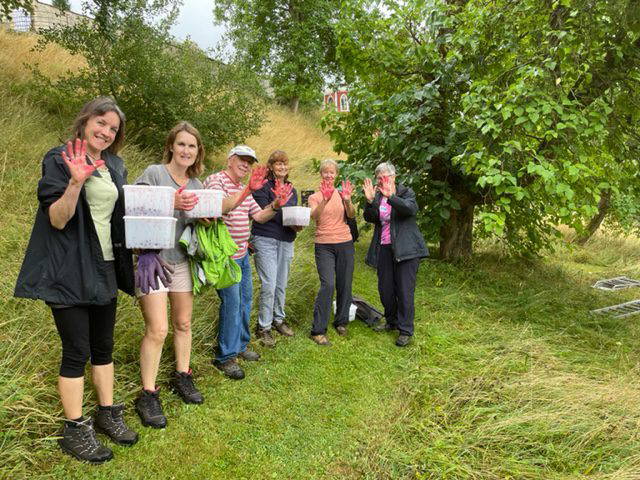 As well as soft fruits, we are now harvesting a variety of lovely veg for Rob in the kitchen.  These include carrots, peas, mangetout etc, but the piece de resistance has to be the brassicas, which this year, for some reason, have done remarkably well.  In fact, so well that we have managed to grow our first ever cauliflowers!!!  Very exciting news, I'm sure you'd agree!  But not just that, some gigantic and perfectly proportioned Savoy cabbages have made their way up to our chef too.
As you can see, I'm over the moon with this veg!!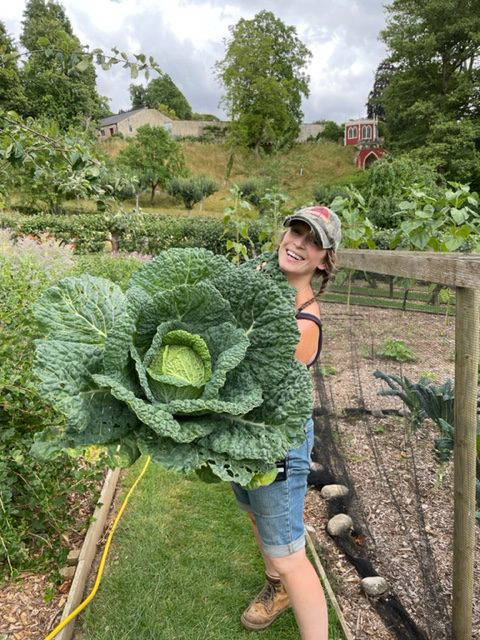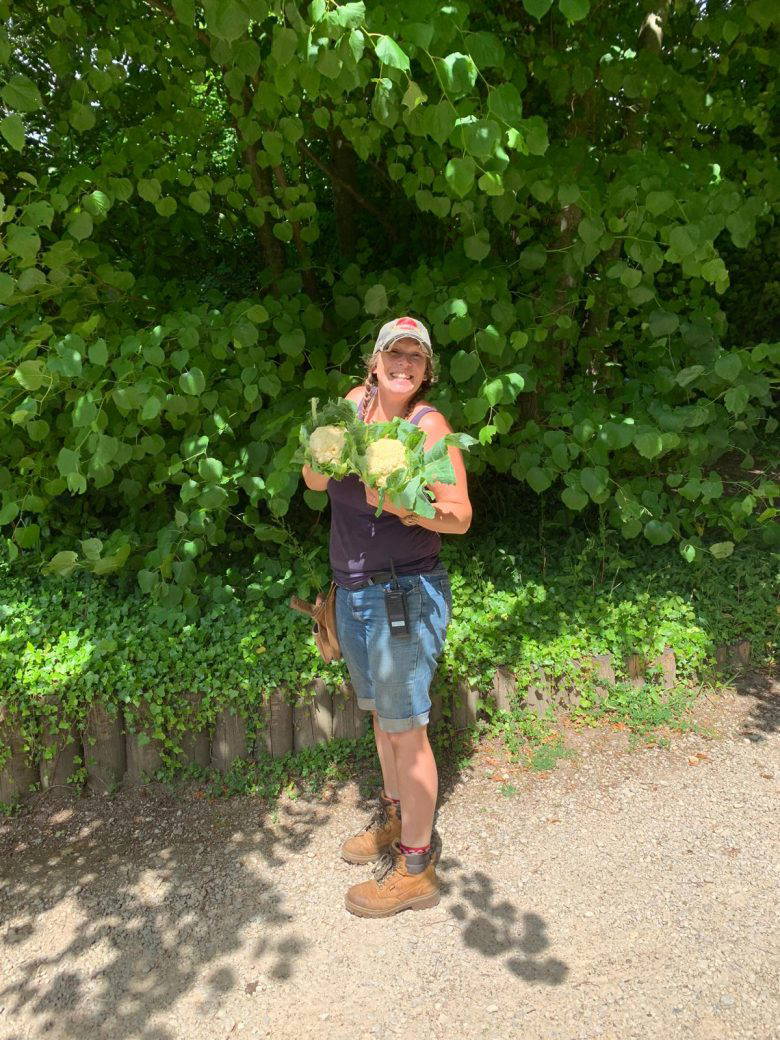 You may be wondering why I haven't so far listed strawberries in with the soft fruit harvests, or gluts of courgettes in our harvests to the cafe? Well, that's because we have a problem with pests.  They come in the shape of female Roe deer and can be found in and around the garden most, if not every morning.  They are eating everything!  Or it feels as if they are.  They arrive in the Garden at the top end, through our Bluebell Woods and stop off in our Exedra beds which are brimming with flowers for a small 'amuse-bouche' including phlox, geranium and cotinus bark, then it's a small yet graceful leap into the Kitchen Garden for the main course.  This includes every single leaf and stalk on every single courgette plant, all our salads and chard plants and any ripe strawberries to boot.  Can you hear the bitterness in my words?  It's a devastating affair when you spend your working hours carefully tending to plants, grown from seed, raised with love until they are big and strong enough to fend for themselves in the Garden, only to find them ravaged the next morning. We have invested in an ultrasonic repelling device that seems to put them off for about 15 minutes! Grrrr.
This isn't the only pest we have to contend with here at Rococo Garden.  We also have several badger sets dotted around the Garden, which we're very proud of, but it's that time of year again when they start snuffling around for a bite to eat.  They've recently started digging out our selection of tulip bulbs in the Exedra Garden as well as the carrots it seems!!  Unfortunately, the Exedra Garden doesn't have fencing and gates, but if you are a regular visitor and ever see a Kitchen Garden gate open, I'd be so grateful if you'd take a moment to secure it just in case!
Here she is, not in the slightest bit bashful or ashamed, just looking at me while slowly chewing whatever it is she's just nabbed.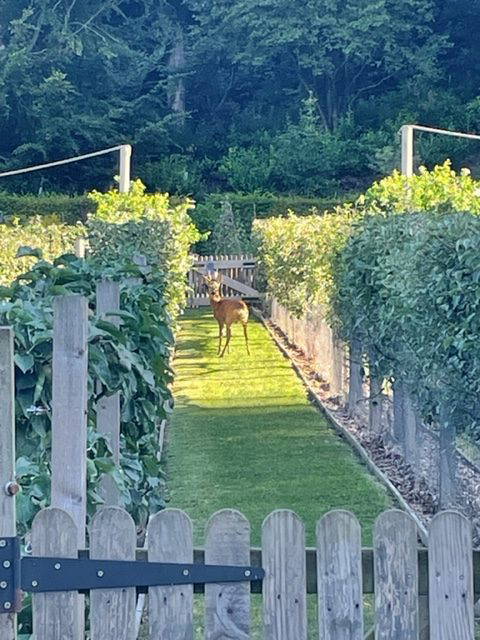 OK, rant over. Sorry.
At the moment it's the school summer holidays and, in what is becoming regular Rococo fashion, we have a fabulous children's trail in place for kids, young and old.  It features fairies and other magical creatures that are hidden around the Garden for children to find and so far, it has been a real hit.  If you have little ones and need a place to let them run free and explore then this is the place!  Wings and wands are available in the shop at low prices and in sizes that can stretch for an adult if you wish!!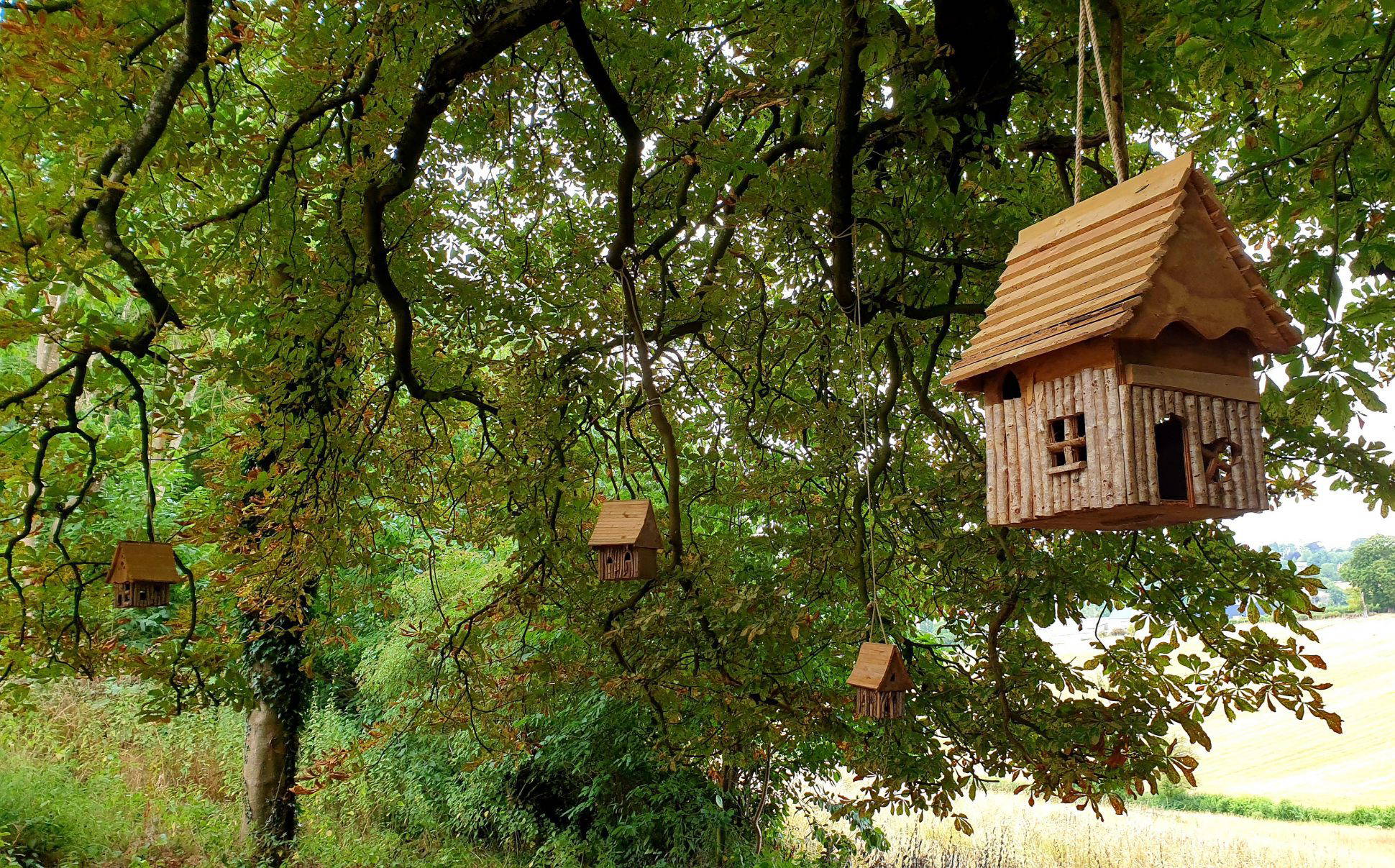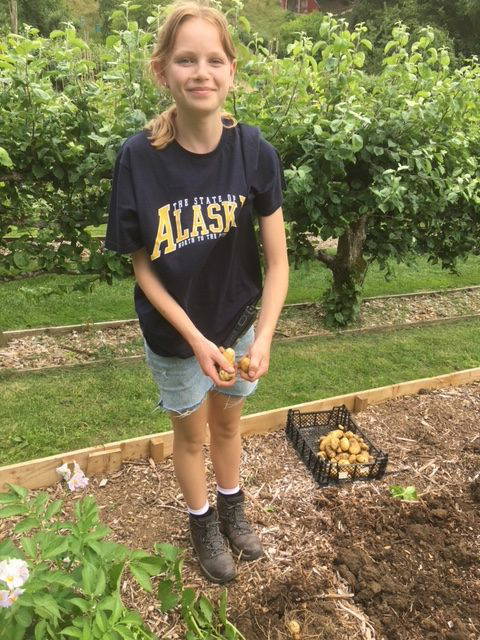 In early July we welcomed Maeve to join us for 3 days work experience.  She arrived ready for the challenge and worked really hard, shadowing me on my day's work at a variety of chores including a bit of drilling and screwdriving, harvesting of veg, path blowing and the ever-present necessity to weed.  Here she is with some freshly dug potatoes.  Well done Maeve, you would be welcomed back to help out any time!
Summer months at Rococo Garden mean outdoor theatre and we were thrilled to welcome back the incredibly talented Handlebards for two nights of their telling of Twelfth Night.  We had perfect weather both evenings and the crowd enjoyed hilarious japes, slapstick humour and the typical picnic stealing, tastefully united with this wonderful romantic comedy.  I absolutely and highly recommend anything that the Handlebards set their minds to.  I can also recommend reading through a quick synopsis on the wiki page of the story if it's a Shakespeare that you're not familiar with, it helps endlessly when trying to keep up with the high energy of their performances. We've still got IKP's production of Rapunzel to look forward to on bank holiday Monday, more info about this can be found here.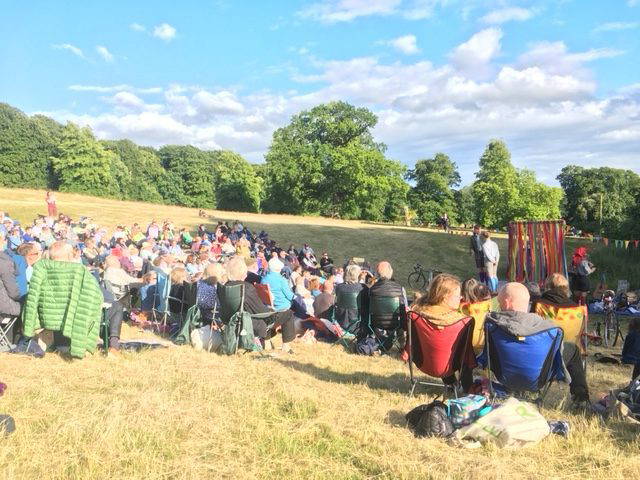 Right now in the Garden the Orchard is heavy with apples and the Vineyard is starting to fill with grapes.  The hydrangea 'Annabelle's' are looking exceptional in the Exedra Garden and Plunge Pools: thankfully, it seems the deer aren't too fond of them.  The Sunflowers in the Kitchen Garden have grown to 10 feet in some places and are starting to flower majestically. And, more likely than not, the sprinklers will be on somewhere.  Which, although it may seem a shame as it inevitably closes off an area, I can confirm that both children and adults alike are quite happy to cool down under them briefly!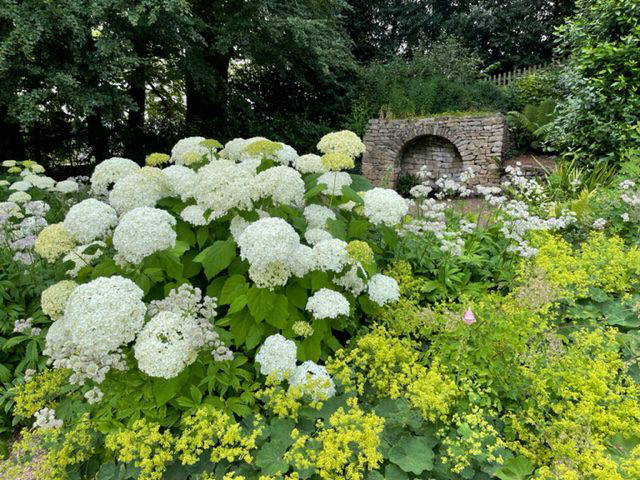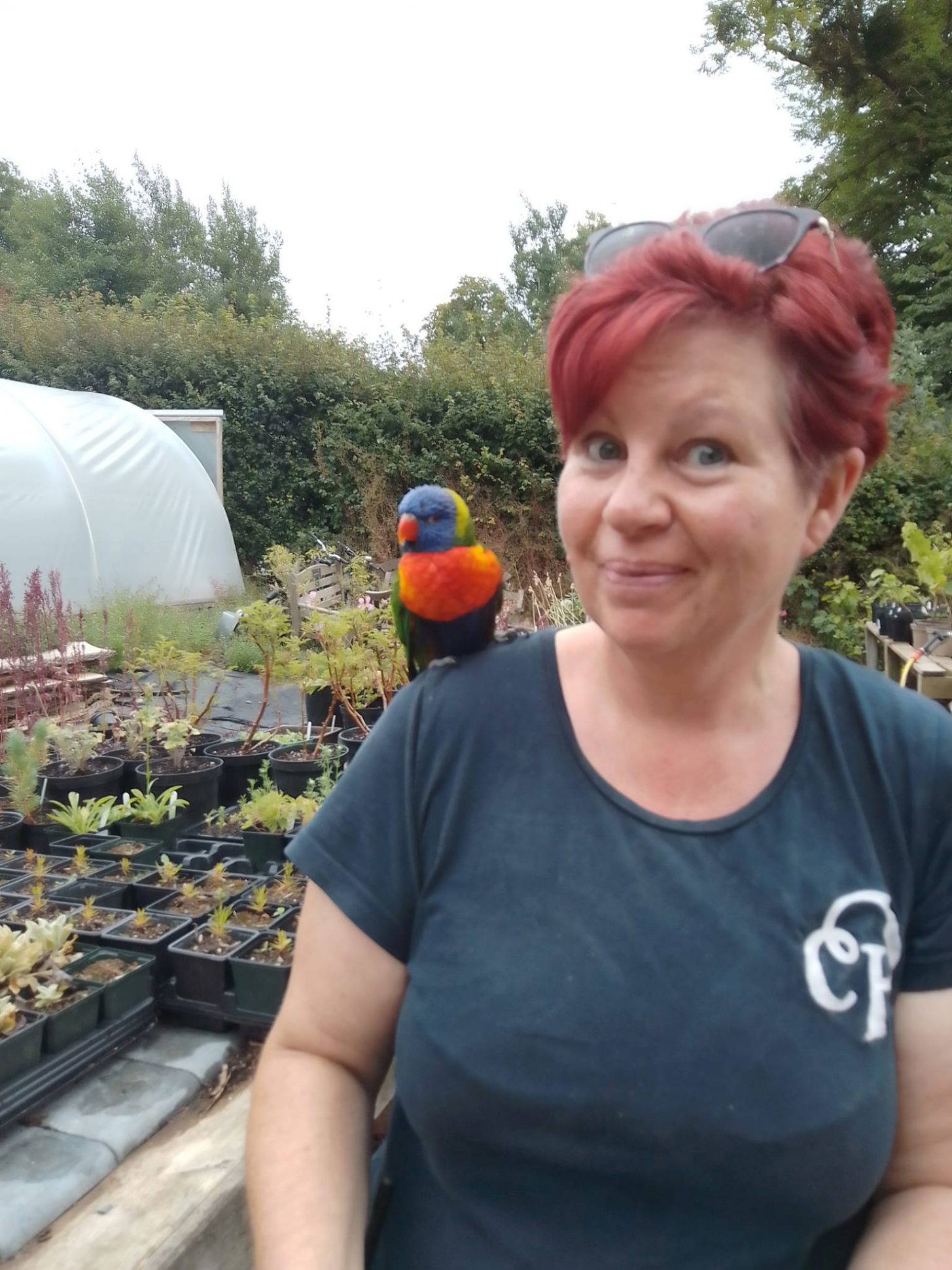 Emma from the Garden Team managed to help return a missing and well-loved pet that arrived at Rococo Garden last week.  Here she is with said Percy, the lorikeet, who, in desperate need of a drink managed to fly all the way from Gloucester by accident.  By the wonderful powers of social media, he was safely returned within a few hours.  It all happens here!!
I'll just leave you with a small plea.
If you're not already aware, Rococo Garden have launched a Crowdfunder to help enable us to move out of our current Coach House which we operate our shop, café and office from, into a new area which is currently under construction.  We have a goal of £60,000 which will help fund this move and every little counts.  There are some priceless rewards on offer for certain sized donations, including: shadowing a gardener for 3 hours at a bargain price of £75, or even an out-of-hours, exclusive private party in the Garden for £1000. But, if you simply love this place and want to help, any donation is hugely appreciated.  You can get all the details and donate if you wish here.  Many, many people stop the garden team on a weekly basis to tell us how much they've enjoyed their day, how much they love the unique Garden, or how they appreciate the Garden as a therapeutic and healing place.  Please dig deep to help the Garden continue running.
Thanks for reading, I'm off… down the aisle!  See you in a few weeks!